Peacetival 2017
Setelah sukses dengan Peacetival di Bandung, Peacetival hadir kembali di Makassar tanggal 12 Februari 2017 lalu. Peacetival adalah event musik, pameran dan aktivitas seru dan mengasyikan seputar perdamaian. Acara ini digelar oleh Peace Generation Indonesia bekerja sama dengan beberapa komunitas di Makassar. Peace Generation Indonesia sudah ada sejak 10 tahun silam dengan memiliki visi ingin membuat suatu perubahan di negeri Indonesia. Berkat dukungan banyak pihak program Peace Generation Indonesia kini sudah tersebar di Malaysia, Thailand, Filipina, dan USA.
Acara ini menampilkan banyak item kegiatan sepeti, rock the peace, talk the peace, peace game, peace book, dan masih banyak lagi. Tujuan dari diadakannya Peacetival ini adalah untuk membangun dan memperkuat jaringan komunitas, organisasi dan anggota masyarakat lainnya yang konsen kepada perdamaian. Selain itu ingin mempromosikan program pendidikan perdamaian di sekolah, komunitas dan masyarakat.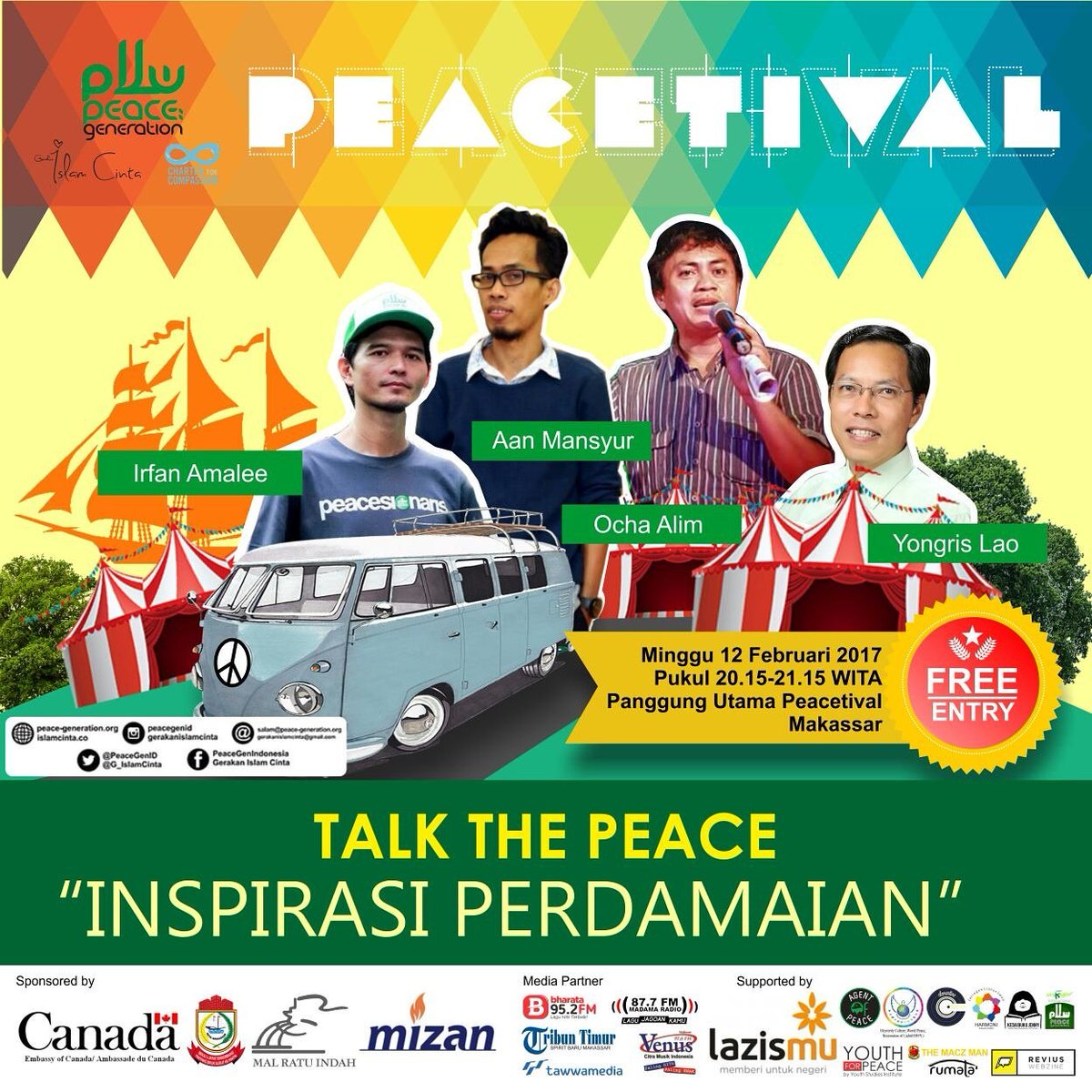 Dalam Peacetival 2017 kali ini, hadir juga Eric Lincoln, cucu dari mantan Presiden Amerika Serikat, Abraham Lincoln yang menjadi founder Peace Generation bersama Irfan Amalee, CEO Mizan Application Publisher yang juga co founder Peace Generation dan Haidar Bagir, direktur utama Mizan Grup serta penggagas Gerakan Islam Cinta.
Walikota Makassar Mohammad Ramdhan 'Danny Pomanto sangat menyambut baik acara ini. Dalam penyelenggaraan Peacetival kali ini, Peace Generation menunjuk Makassar sebagai salah satu kota welas asih atau Compassionate City yang memang menjadi salah satu misi dari Peace Generation. Hal ini tentu saja didukung penuh oleh pemerintah Kota Makassar. Danny optimistis, ke depannya Makassar akan menjadi kota dengan semangat kepedulian sosial yang tinggi. (red-dari berbagai sumber)